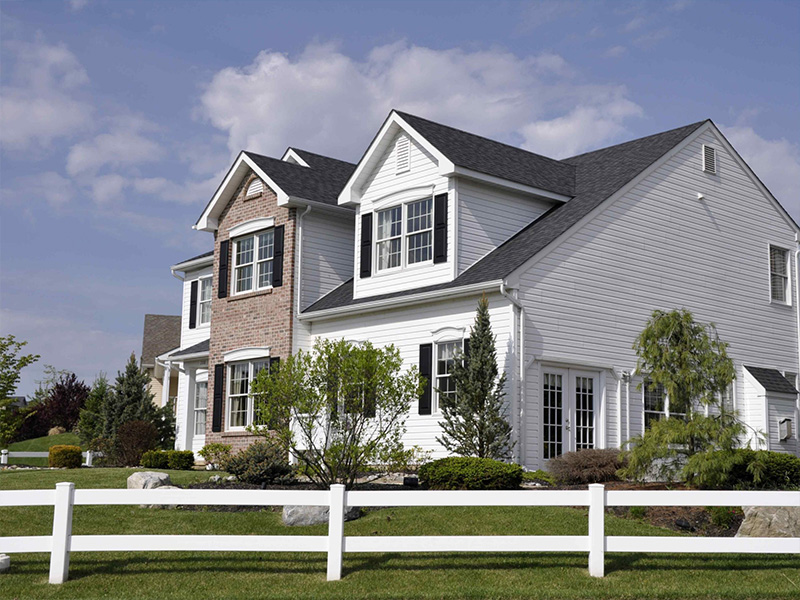 A classic border with rustic charm: Explore our ranch rail vinyl fencing solutions for timeless style and functional versatility.
Discover the perfect blend of the classic and rustic charm of our vinyl ranch rail fencing options at B&T Fencing. Ranch rail fences, also known as a farm fence or horse fencing, have long been admired for their timeless appeal and versatile functionality. Our vinyl ranch rail fences capture the essence of this traditional fencing style while offering modern durability and convenience. Crafted from premium vinyl materials, these fences are designed to withstand the harshest weather conditions without warping, rotting, or fading. With their distinctive 2, 3, or 4 horizontal rails and sturdy posts, our vinyl ranch rail fences not only define boundaries but also add a touch of country-inspired sophistication to your Tallahassee area property.
Beyond their aesthetic appeal, our vinyl ranch rail fences provide numerous practical advantages. The low-maintenance nature of vinyl eliminates the need for painting, staining, or sealing, saving you time and effort while keeping your fence looking pristine. Designed for easy installation, our vinyl ranch rail fences are lightweight yet sturdy, making them an ideal choice for various applications, from residential properties to equestrian facilities and beyond. The wide spacing between rails allows for excellent visibility while maintaining a secure enclosure, perfect for keeping livestock in or creating a warm and welcoming border for your property. You can count on B&T Fencing to deliver high-quality vinyl ranch rail fencing solutions that combine traditional charm with modern durability, enhancing the aesthetic and functionality of your Tallahassee area property.
Vinyl Ranch Rail Fence Styles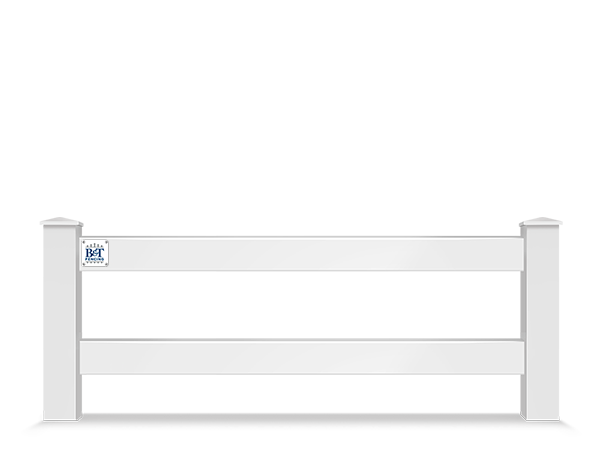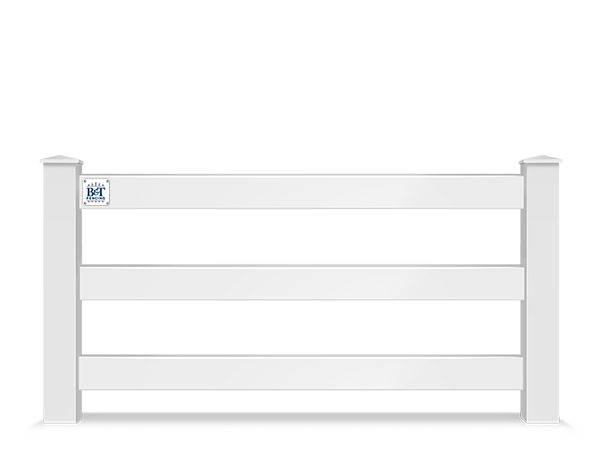 Rails: 1-1/2″ x 5-1/2″
Spacing: 10-1/2″
Post spacing: 8′ on center
Fence Height: 36″
Rails: 1-1/2″ x 5-1/2″
Spacing: 10-1/2″
Post spacing: 8′ on center
Fence Height: 50″
Rails: 1-1/2″ x 5-1/2″
Spacing: 10-1/2″
Post spacing: 8′ on center
Fence Height: 60″