This traditional fence material will add natural character to your home and property. A primary reason people choose wood as the fencing material is because of its sheer beauty. Wood fencing comes in a variety of colors, sizes, and types. Wood fences function to provide complete or partial privacy, or enhance the appearance of your property. You can dress your fence up with swooped sections or sculpted posts or post caps.
Shop Our Premium Vinyl Fence Options.
Wooden fences are advantageous by being not only functional, but having aesthetic appeal as well. However, while wood privacy fences are cost-effective to install, they do require upkeep such as stains, seals, or paint. Fortunately, maintaining the aesthetics will aid in keeping the fence optimally functional, and at B&T Fencing, we're available to assist you with your fencing needs from the day we install it to years later if you ever want to upgrade or have us perform maintenance on your fence. Even if we didn't install your fence, but you have an old fence that could use a face-lift, we can treat your wood privacy fence to maintain both beauty and functionality.

Your Fence, Your Style
Wood fencing can be customized and finished in a number of ways! Once you choose the style of fence that best suits your needs, don't forget to consider these different finishing options that further enhance the style and design of your custom wood fence!
Make sure to consult with our fence experts. Not all custom finishes are available for each of the different fence styles! We can help you design your perfect fence!
Do you see a design you like?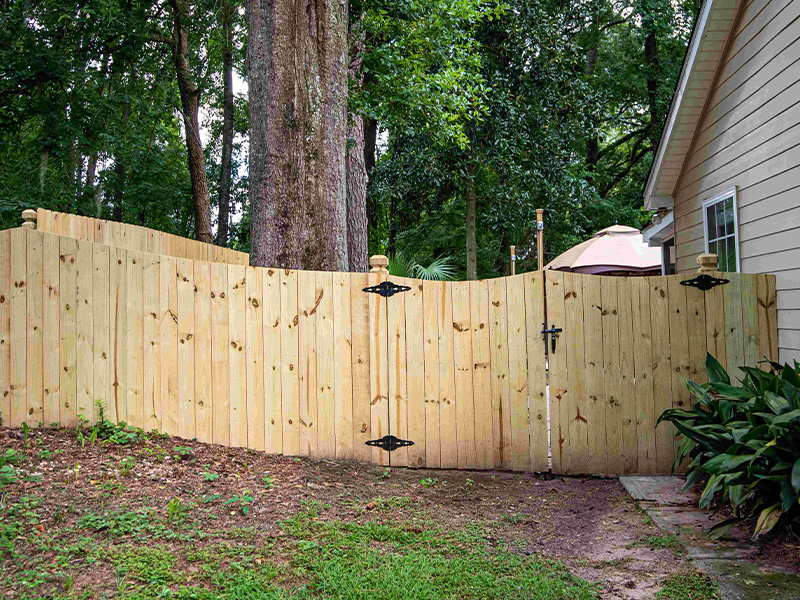 Dog Ear Finish Top
The dog ear design is common choice for wood privacy fences in Florida because it provides a touch of flair without taking away from the fence's simple beauty or privacy.
Cap and Trim
A top cap and trim can be added to many fence styles to give it a truly finished look. If craftsmanship and attention-to-detail is your style – our various cap and trim options may be the perfect choice to finish off your custom wood fence!
Lattice Top
Lattice can be added to the top of many of our custom wood fence styles – adding a whole new dimension of beauty and elegance to your fence. Lattice can often also be added to gates to match … or to make them stand out even more!


Convex Top
Another popular choice for wood fences in Florida is the convex top cut. Just about every style of wood fencing can be finished with the convex cut – including wood picket fences.
Concave Top
Some of our Florida clients choose the concave top cut, the inverse of the more popular convex top cut. It's entirely up to you to decide what looks best and how you want your house or business to appear.
There are many styles of wood fencing and we've included our most popular ones below.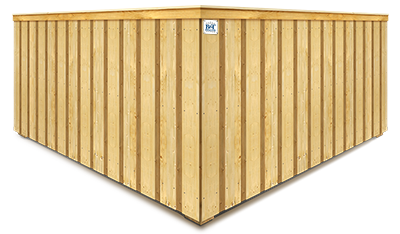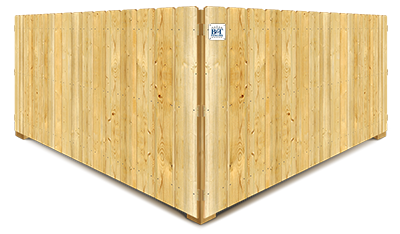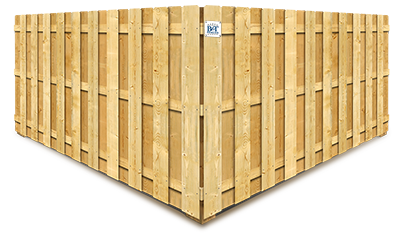 Board-on-Board
The wood fence style is constructed with an overlapping pattern of vertical pickets where every other board is attached to the opposite side of the fence rails, creating airflow.
Stockade
Among the most traditional privacy fence styles, stockade fences are constructed with wood boards that are placed tightly against one another, giving you a solid panel.
Shadowbox
Alternating boards on either side of the rail create an attractive look on both sides of the fence, which is one of the best features of a wood shadowbox fence.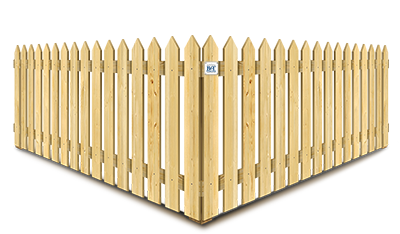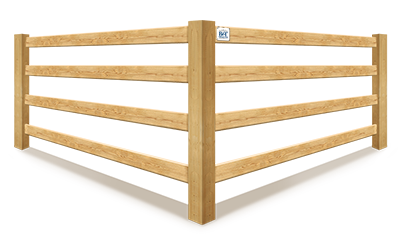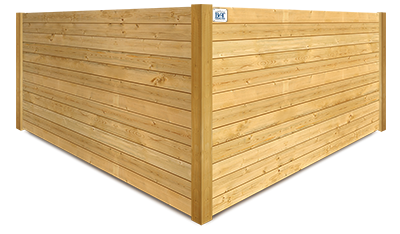 Picket
A modern approach to the traditional wood picket fence is to use flat top or dog-eared pickets to create that decorative boundary.
Post and Rail
A wood post and rail fence is an economical and attractive way of enclosing large spaces or marking the boundaries of your property.
Horizontal
Horizontal wood fences are a contemporary variation of standard wood fencing styles. This style is a perfect pairing with modern-style homes.