As part of the Tallahassee community, each and every one of us at B&T Fencing feels a strong commitment to giving back as a way of saying thank you. Not only do we believe it is our responsibility; it is our privilege to do so. Some of the fencing projects we have donated our time and labor to include:
VOCAL-Voices of Chance Animal League: B&T Fencing teamed up with VOCAL on their Break the Chains awareness campaign and built needed enclosures for animals.
Tallahassee-Leon County Animal Shelter: Our team repaired fences for the shelter as needed.
Tallahassee Sunrise Rotary: B&T Fencing has provided temporary fencing for Tallahassee Brew Fest since 2012.


We appreciate our loyal fencing customers in Tallahassee and are happy to have the opportunity to show our gratitude.
Along with giving back to the community, we feel supporting local organizations also brings a sense of community well-being. A few of the local organizations we support are:
FSU Boosters
FAMU Boosters
MDA
Young Actors Theatre
Tallahassee Museum
Tallahassee Builders Association
Associated Builders and Contractors, Inc.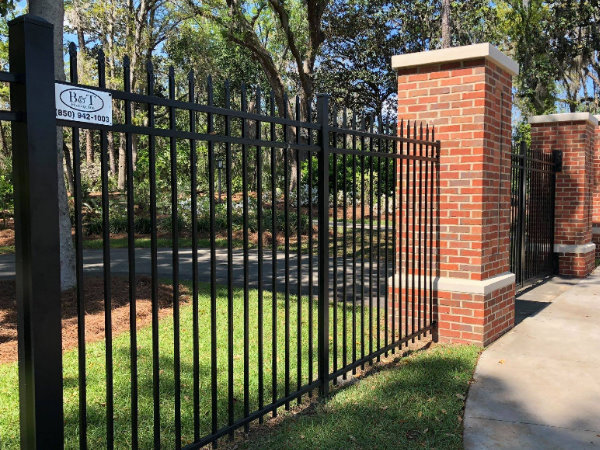 In 2016, B&T Fencing was recognized by Governor Rick Scott with the Governor's Business Ambassador Award. This award is given to individuals for their efforts in creating jobs and opportunities for Florida Families. We are honored Governor Scott recognized our family-owned fencing company and are proud of the success we have achieved over the past 17 years because of our team's commitment to excellence.

Eileen Reed
We got our fence installed by B&T. They did an amazing job. We had looked at several other fencing companies, and B&T was the most affordable fencing company. My husband was pleased how everyone communicated with him. I was worried how our fence would look since we have quite of a slope, but they managed to make it work. I would recommend B&T if you're looking to have a fence installed!

Annette Gaul
I had a mess and B&T Fencing beautified my yard by fixing fence that had been damaged by neighbor's trees and replacing a front chain link fence with an aluminum black decorative fence. Tyler and Zach did an amazing job, and were friendly and knowledgeable. They worked very hard and I appreciate their great efforts....it is not an easy job. Brian followed up and assured all went well! I wish I could attach before and after photos! Thank you, Tyler, Zach and Brian!

John Moore
B&T Fencing did a wonderful job. Professional, on time and quick. They provided three different estimates based on our various questions. They crew is fast and professional and they hauled off all of the old fencing. Great job!!

Alan Suskey
The B&T team did a great job on our residential fence! They worked with us on our timeline, completed the work quickly with great quality, and kept us informed the whole way. No one better for your fence job, big or small.

Tania Pendarakis
Last year B&T installed a new gate for me. I received good advice from the owner, Ryan Boyett, regarding the type of gate that would best meet my needs. I have big dogs but I am also raising a service dog and we have lots of puppy company. Notice the lower part of the gate with bars spaced more closely together for puppy-proofing. The gate is beautiful and functions well. I've had a couple of issues with the new gate but they were addressed and resolved quickly. I highly recommend this company.