Enhance your space with timeless elegance: Discover our vinyl privacy fencing solutions for ultimate low-maintenance tranquility and seclusion.
At B&T Fencing, we understand the importance of privacy and creating a peaceful oasis within your Tallahassee property. That's why we proudly offer vinyl privacy fencing solutions that combine durability, aesthetics, and functionality. Our vinyl privacy fences are designed to provide a secure and secluded environment for your home or business. Crafted with high-quality vinyl materials, they offer an attractive alternative to traditional wood fences while requiring minimal maintenance. With a variety of styles, colors, and textures available, our vinyl privacy fences seamlessly blend with any architectural design, enhancing the overall beauty of your space.
One of the standout features of our vinyl privacy fences is their exceptional durability. Built to withstand the test of time, they are resistant to rot, warping, cracking, and fading, ensuring long-lasting performance even in harsh weather conditions. The low-maintenance nature of vinyl eliminates the need for frequent painting or staining, allowing you to enjoy your privacy without the hassle of continuous upkeep. Moreover, our vinyl privacy fences are designed to provide noise reduction, blocking out unwanted sounds and creating a serene atmosphere for relaxation. Whether you're looking to transform your backyard into a private retreat or seeking a reliable fencing solution for your Tallahassee commercial property, our vinyl privacy fences offer the perfect combination of style, strength, and tranquility. Trust B&T Fencing to deliver exceptional quality and expert installation, making your privacy a top priority.
Vinyl Privacy Fence Styles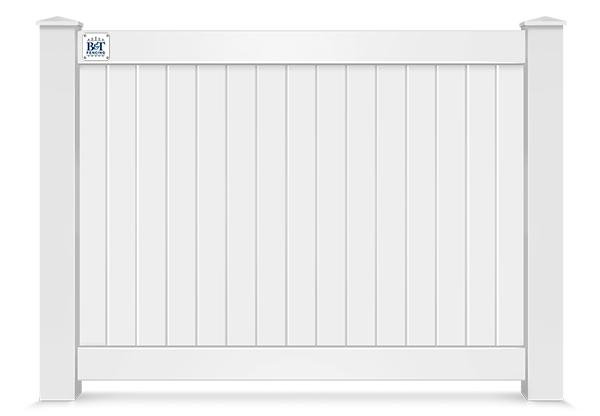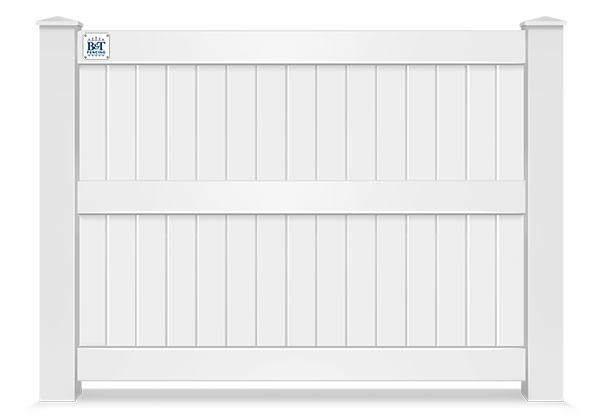 Vinyl Privacy
Height: 8′
Picket: 7/8″ x 6″ Tongue & Groove
Rails: 2″ x 7″
Fence Length: 71″ & 95″ Centers
Vinyl Privacy
Height: 6′
Picket: 7/8″ x 6″ Tongue & Groove
Rails 1.75″ x 5.5″
Fence Length: 71″ & 95″ Centers