Providing Safety, Security, and Privacy for your Family, Home, and Business for over 20 years
RESIDENTIAL AND COMMERCIAL FENCING IN BALDWIN COUNTY, AL
Whether you're looking for a fence installation for privacy, safety, to keep children and pets safe in the yard, or for decorative purposes, B&T fencing has options for you in Baldwin County, Alabama. While other fence contractors only carry a few selections, we have a wide range of materials for building chain link, composite, and other ornate metal fences. We take pride in our color options to either blend in with nature or stand out as a statement, and a guarantee that you'll be satisfied no matter what fence you choose. As the top-rated fencing contractor and installer in Tallahassee, Florida, Mobile and Baldwin County, Alabama, we hold ourselves and our work to the highest standard. Contact Us today for a free quote on any of our residential fencing options.

Eileen Reed
We got our fence installed by B&T. They did an amazing job. We had looked at several other fencing companies, and B&T was the most affordable fencing company. My husband was pleased how everyone communicated with him. I was worried how our fence would look since we have quite of a slope, but they managed to make it work. I would recommend B&T if you're looking to have a fence installed!

Annette Gaul
I had a mess and B&T Fencing beautified my yard by fixing fence that had been damaged by neighbor's trees and replacing a front chain link fence with an aluminum black decorative fence. Tyler and Zach did an amazing job, and were friendly and knowledgeable. They worked very hard and I appreciate their great efforts....it is not an easy job. Brian followed up and assured all went well! I wish I could attach before and after photos! Thank you, Tyler, Zach and Brian!

John Moore
B&T Fencing did a wonderful job. Professional, on time and quick. They provided three different estimates based on our various questions. They crew is fast and professional and they hauled off all of the old fencing. Great job!!

Alan Suskey
The B&T team did a great job on our residential fence! They worked with us on our timeline, completed the work quickly with great quality, and kept us informed the whole way. No one better for your fence job, big or small.

Tania Pendarakis
Last year B&T installed a new gate for me. I received good advice from the owner, Ryan Boyett, regarding the type of gate that would best meet my needs. I have big dogs but I am also raising a service dog and we have lots of puppy company. Notice the lower part of the gate with bars spaced more closely together for puppy-proofing. The gate is beautiful and functions well. I've had a couple of issues with the new gate but they were addressed and resolved quickly. I highly recommend this company.
Vinyl Fencing
High Quality Vinyl Fencing
Pool Fencing
Residential And Commercial Pool Fencing
Ornamental Fencing
Aluminum And Steel Ornamental Fencing
Composite Fencing
High Quality Alternative To Wood And Vinyl Fencing
Chain Link Fencing
Expert Chain Link Installation
Wood Fencing
Wood Fence Installation And Repair
B&T Fencing: A Fencing Contractor You Can Trust
Leading The Way With Quality Fencing In Baldwin County, Alabama Since 1999
Our company values high quality products and outstanding customer service so you'll experience those qualities every time you work with the professionals at B&T Fencing. We are locally owned and operated, providing business owners and homeowners with expertly installed fences that provide the functionality you want most.
From vinyl fences, aluminum fences, wood fences, to chain link fences, there's no doubt that you'll find the style and features you're looking for. We work with all budgets and property sizes and are happy to help you design the fence of your dreams. Reach out to B&T Fencing today, and let us show you the level of care and workmanship you were hoping to find in a fence contractor in Baldwin County, Alabama.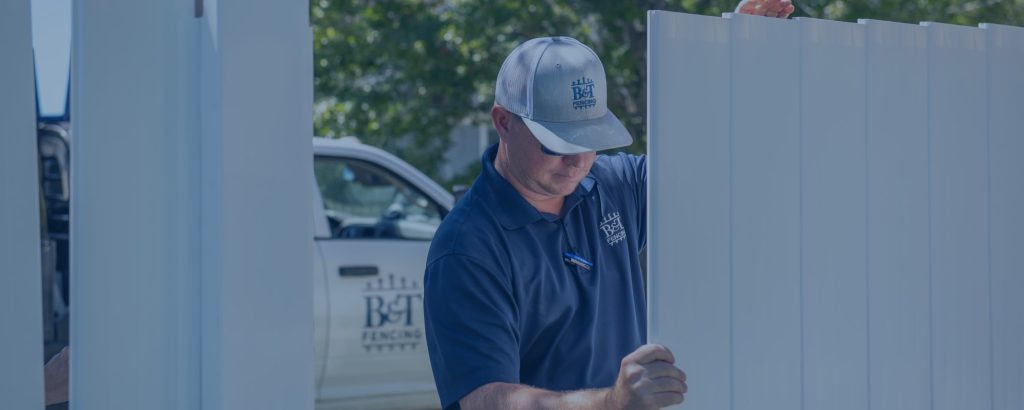 Use our Instant Fence Estimator Tool to draw the lines of your fence right on an interactive map, choose your fence materials and details, and get a quote of the costs in minutes! You can compare fence types and get started for FREE!